Editions Nicole Canet :

Galdi Secret
1890-1920
Edition limitée à 950 exemplaires, chaque exemplaire numéroté à la main
Format 21 x 27 cm
Broché, 160 pages, 131 reproductions photographiques 1890-1900.

Préface de Jacques Desse,
introduction de Nicole Canet
autres textes de Butterfly
Bilingue : français - anglais -
French - English
ISBN : 978-2-9532351-4-2
Prix 55 euros

RARE

GALDI SECRET - GALDI IMPUDIQUE - GALDI MODERNE
Ce catalogue vous fera découvrir les différentes facettes d'un photographe peu connu des années 1900 à Rome, avec un talent et une audace incomparable. La composition de ses photographies oriente nos regards vers le phallus, sublime objet du Désir

Première partie du catalogue :
-photos classiques

Deuxième partie du catalogue :
- Photos prises en Algérie

Troisième partie du catalogue :
- photos érotiques dans sa maison à Rome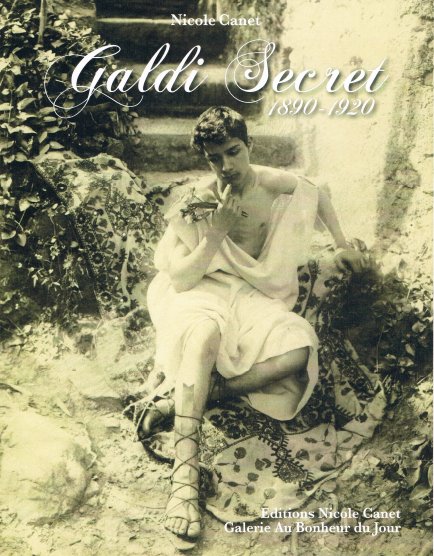 GALDI: a private, audacious and very modern photographer

This catalogue seeks to reveal the many facets of a little-known photographer who worked in Rome in the early 1900s, an artist of incomparable talent and daring.

The compositions of his photographs draw the eye towards the penis, as sublime and ultimate object of desire.